CLICCA QUI PER CERCARE I TUOI AMMORTIZZATORI BILSTEIN
Ammortizzatore a gas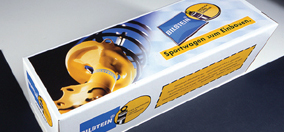 Decenni di esperienza nella tecnologia per ammortizzatori a gas sono riassunti nell'ammortizzatore BILSTEIN: Know-how e uso di materiali di prim'ordine garantiscono il perfetto funzionamento nel tempo. Il tubo, estruso a freddo da un unico pezzo di metallo, assicura la perfetta tenuta sotto pressione. Il pistone, munito di lamelle elastiche, permette una corsa perfetta in compressione ed estensione.
Bilstein Sport B6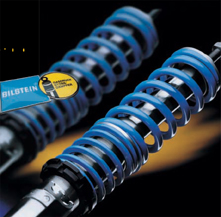 Sensibile miglioramento delle caratteristiche di guida. Anche l'utilizzo più dinamico diventa emozionante e il comfort di marcia ne beneficia. Il beccheggio in curva ed in frenata è enormemente ridotto. Risultat sicurezza e divertimento.
Bilstein Sprint B8
Progettato in special modo per accompagnarsi a molle da assetto di alta qualità, questo ammortizzatore ha una corsa ridotta per mantenere la giusta armonia fra i due componenti. L'escursione accorciata permette un ottimo precarico della molla in tutte le condizioni ed assicurca un ottimo lavoro delle sospensioni. PSS /PSS9 ammortizzatori Bilstein sportivi B14 - B16
La Bilstein si rivolge con grande attenzione al tuning realizzando prodotti specifici d'impostazione racing, questo è il caso del kit Bilstein PSS9 (Professional Suspension System), assetto regolabile in altezza, oltre che in estensione e compressione con 9 posizioni predefinite. Con il kit PSS9, gli ingegneri della Bilstein hanno reso disponibile al pubblico delle auto personalizzate la tecnica applicata alle vetture da corsa, e come su una vettura da corsa, il PSS9 si regola cambiando la rigidità dell'ammortizzatore. L'assetto viene completato con una molla corta, studiata e prodotta appositamente per questi ammortizzatori dotati di una cartuccia maggiorata fino 40 mm. Ghiera e controghiera in alluminio definiscono l'altezza della vettura. In sintesi: Il PSS è un sistema d'assetto professionale con ammortizzatori a taratura fissa. Il PSS9, evoluzione del PSS, offre nove regolazioni diverse in estensione e compressione, nove tarature precise a scelta per l'assetto ideale.
Shock & Spring Systems
Evolving from a history of worldwide racing dominance, Bilstein has developed the ultimate automotive performance suspension systems. To insure maximum performance, these systems utilize Bilstein's superior monotube gas shocks, featuring: Largest available piston diameter for greater sensitivity and precise control. Patented digressive piston head design and deflective valving instantly reacts to changing road conditions. Monotube design dissipates heat more effectively than a twin tube shock for cooler, more efficient operation and longer life. Lighter weight reduces wear and tear on suspension components. BTS System The Bilstein BTS suspension components provide a dramatic increase in your vehicle's performance handling characteristics. The BTS consists of 4 coil springs with a performance directed spring rate and Bilstein's patented monotube gas pressure shock absorbers. The sport level valving is specially tuned for your specific vehicle. The BTS system provides a lower stance and firmer ride for better road handling and control. This is the most economical way to vastly improve your car's performance and appearance. PSS System The Bilstein PSS Suspension allows you to adjust your vehicle's ride height without the expense of the fully adjustable damping system. This system features both coilover and standard monotube gas pressure shocks with performance level valving along with application specific, progressive rate coil springs. The PSS system lets you set your car low and tight for optimum performance or back to a more stock like ride height and handling characteristics. Ride height adjustments can be made on the vehicle without removing the suspension. The solid aluminum spring seat and lock nut allows a selective adjustment of the vehicle's ride height. Spring travel and vehicle body height change, but the spring seat remains pre-loaded throughout the allowable range of adjustment. PSS 9 System The Bilstein PSS 9 Suspension provides the ultimate in performance tuning. The fully-adjustable monotube gas shock absorbers offer a selection of nine precise compression and rebound settings, from comfort to competition. The front and rear progressive rate springs allow accurate adjustment of the vehicle ride height and center of gravity for the level of performance you seek. Now you can enjoy the kind of precise suspension tuning formerly available only on race cars. The PSS 9 system puts you in complete control. Whether it's a weekend of competition or the daily commute, absolute handling and control are just a few twists away.